What is NanoKeratin
The NanoKeratin system is a Semi-permanent, hair repairing, smoothing and straightening system that locks in colour and moisture. It repairs dry and damaged hair, defrizzes unruly hair and even straightens out any type of curly/ wavy hair.
It is the treatment tailored to fit your hair needs, containing 4 different methods and 3 different product ranges.
Who is NanoKeratin for?
It is for ANYONE
From the person with wild, curly hair, longing for it to be straight in a blast, to the person that would just like their hair to be more manageable and frizz free.
Along with the person who just needs heathier hair!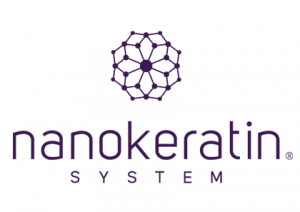 Methods of NanoKeratin
Express Repair
30 day blow dry
Smoothing Treatment
Straightening System
How long does it Last?
30 days to 6/9 months depending on the aftercare chosen.
How long does it take?
20 minutes to 4 hours, depending on system required and the hairs length/thickness
The Science Behind NanoKeratin
Nano keratin uses extremely small(nano) monomers, that penetrate deep into the hair structure. When titanium heat is applied, the monomers cross link to form polymers that attach to the disulphide bonds and realign the hair structure.
Polymers also create a forcefield around the hair shaft, repelling moisture, adding shine and smoothness, enhancing colour vibrancy whilst protecting against environmental influences.
Pricing
Prices start at £30 up to £175 depending on method used and the hairs length/thickness
NanoKeratin Aftercare
The NanoKeratin system has its own use at home products to use alongside the system. To receive the maximum result from your service we highly recommend that you purchase these products after your service is complete, to reap the benefits of your nano keratin system after you walk out of the salon doors.
Want to know more?
Book a free consultation with one of our stylists who will talk you through the system and answer any questions you have.
Contact Us